I'm actually a velociraptor.
Most of you probably don't know this, but I am skilled at being a velociraptor. Some believe I actually am one.
As we all know, velociraptors are extremely dangerous predators, and are dinosaurs. According to the knowledge we have gathered, they hunt in packs and, unlike most other dinosaurs, they learn. In addition, from the immortal words of Dr. Alan Grant, "You are alive when they start to eat you." Awesome.
Remember, velociraptors are pure evil. But also, I'm pretty sure everyone knows that these mofos are the most badass dinosaurs around. Fuck T-Rexes.
This is a baby raptor. See, you might look at this little guy and think, what a precious little creature! Aw, it's adorable, and probably harmless. But it's not. It's evil. And in all likelihood, it will grow up and kill you, but not before starting to eat you first.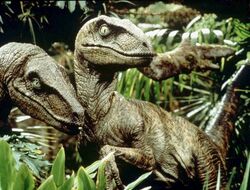 So, if any daring soul would like to engage in a velociraptor fight with me, feel free to contact me via ask box. Good night, and have a pleasant tomorrow!